Strengthening Our Codingate's Warriors
In order to assure an obvious quality in developing cutting-edge technology and deliver final products with high efficiency and being on time to our prestigious clients, Codingate Technology Company always organizes oriented events for every position of internal staff, aiming to check up with their works' productivity and qualifications, as well as enhance our Codingate's Warriors to bring the best we can in operating and generating each piece of our work to meet clients' satisfaction and expectations.
Professional skill and brilliant experience are the main reasons for Codingate Technology Company being able to continue its journey for more than 10 years with more than 500 successful accomplishments for our clients in all sizes of businesses.
We are so grateful for our chairman, Mr. Sopheakmonkol Sok, founder of Codingate Technology Company, as well as all the managers and staff that are always willing to put effort and attention into their responsible positions.
[Khmer Version]
ដើម្បីធានាបាននូវ#គុណភាពក្នុងការអភិវឌ្ឍបច្ចេកវិទ្យាជូនដល់អតិថិជនប្រកបដោយប្រសិទ្ធភាព និង​បញ្ចប់គម្រោងទាន់ពេលវេលា ក្រុមហ៊ុន Codingate Technology តែងតែរៀបចំនូវកិច្ច​ប្រជុំពិភាក្សាជាមួយបុគ្គលិកគ្រប់ជាន់ថ្នាក់ ក្នុងការស្វែងយល់អំពីបច្ចុប្បន្នភាពកាងារ និងផ្តល់ជូននូវដំណោះស្រាយ ក៏ដូចជាការបណ្តុះបណ្តាលបន្ថែម ដើម្បីពង្រឹងសមត្ថភាពដល់បុគ្គលិកគ្រប់រូប ក្នុងការយកទៅប្រតិបត្តិកាងារប្រកបដោយទំនុកចិត្ត និងកាន់តែមានភាពច្បាល់លាស់ថែមទៀត។
ដោយសារតែភាពច្បាស់លាស់ និងទំនួលខុសត្រូវរបស់ពួកយើងនេះហើយ ទើបធ្វើឱ្យក្រុមហ៊ុន Codingate Technology អាចដំណើរការមកដល់ពេលនេះអស់រយៈពេលជាង ១០ ឆ្នាំ ក្នុងវិស័យបច្ចេកវិទ្យា ជាមួយនឹងការអភិវឌ្ឍជាង ៥០០ គម្រោងជូនដល់អតិថិជន ស្ទើរគ្រប់ប្រភេទនៃអាជីវកម្ម។
#សូមអរគុណ
ដល់លោក សុខ សុភមង្គល ស្ថាបនិកនៃក្រុមហ៊ុន Codingate Technology ក៏ដូចជាថ្នាក់ដឹកនាំគ្រប់កម្រិត និងបុគ្គលិកទាំងអស់ដែលតែងតែខិតខំប្រឹងប្រែងយកចិត្តទុកដាក់ក្នុងការដឹកនាំ និងបំពេញកាងារតាមតួនាទីរៀងៗខ្លួនអស់ពីសមត្ថភាព ដោយក្តីស្រលាញ់ចេញពីចិត្ត។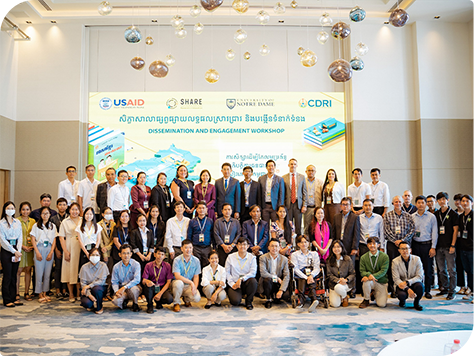 Mr. Sopheakmonkol Sok, the Co-Founder Codingate Technology Co., Ltd., participated in Dissemination And Engagement Workshop for the Learning to Improve Book Resource Operational Systems (LIBROS).
Let's Get Inspired With Us!