Insightful AI Training From Codingate's Chairman and Co-founder, Mr. Sopheakmonkol Sok To Core Teams
At Codingate Technology, we have always strived to stay ahead of the curve and embrace cutting-edge technologies to provide the best solutions for our clients. Recently, our teams were equipped with AI Generative Technology, creaitor.ai, along with inspirational and practical training from our esteemed Chairman and Co-founder, Mr. Sopheakmonkol Sok. This training has not only empowered our core teams but has also revolutionized the way we approach our work.
At Codingate, we understand the importance of leveraging AI technology to enhance our productivity and deliver exceptional results. With creaitor.ai, our teams now have access to a powerful tool that enables them to generate high-quality code snippets, design assets, and even marketing materials. This AI Generative Technology has proven to be a game-changer, allowing our developers and designers to automate repetitive tasks, freeing up valuable time for more creative and strategic work.
However, having the right technology is only half the battle. To truly harness the power of AI, it is crucial to have the right guidance and training. This is where Mr. Sopheakmonkol's expertise comes into play. As the Chairman and Co-founder of Codingate, he has a deep understanding of the potential of AI and its impact on businesses. His insightful training sessions have been instrumental in helping our core teams fully grasp the capabilities of creaitor.ai and integrate it seamlessly into their workflows.
Mr. Sopheakmonkol's training sessions are not just informative but also incredibly inspiring. He shares real-world examples of how AI has transformed industries and encourages our teams to think outside the box. His casual and approachable style of teaching creates an environment where everyone feels comfortable asking questions and exploring new ideas. This has fostered a culture of innovation within our organization, where every team member is encouraged to experiment and push the boundaries of what is possible.
One of the key areas that Mr. Sopheakmonkol emphasized during the training was the importance of efficient documentation. In any business, documentation plays a crucial role in ensuring smooth operations and knowledge transfer. With creaitor.ai, our teams now have the ability to automate the generation of documentation, saving them valuable time and effort. This has allowed us to streamline our workflow and improve collaboration between teams, ultimately resulting in faster turnaround times and increased client satisfaction.
Moreover, Mr. Sopheakmonkol's training sessions have also highlighted the ethical considerations surrounding AI technology. He emphasizes the need for responsible AI usage and the importance of maintaining transparency and accountability. This has instilled a sense of responsibility within our teams, ensuring that we always prioritize the ethical implications of the technology we employ.
The impact of the insightful AI training from Mr. Sopheakmonkol has been truly transformative for our Codingate's warriors. Our teams have not only embraced the power of creaitor.ai but have also become more efficient, creative, and forward-thinking. The combination of cutting-edge technology and expert guidance has allowed us to stay at the forefront of the industry and deliver exceptional results to our clients.
In conclusion, the integration of AI Generative Technology, creaitor.ai, and the insightful training from Mr. Sopheakmonkol has been a game-changer for Codingate Technology. Our core teams have experienced increased efficiency, streamlined workflows, and improved documentation processes, all of which have contributed to speeding up our entire business process. We are incredibly grateful to have a Chairman and Co-founder who is not only knowledgeable but also passionate about empowering our teams with the latest technologies. With this newfound knowledge and expertise, we are confident in our ability to continue providing innovative solutions and exceptional service to our clients.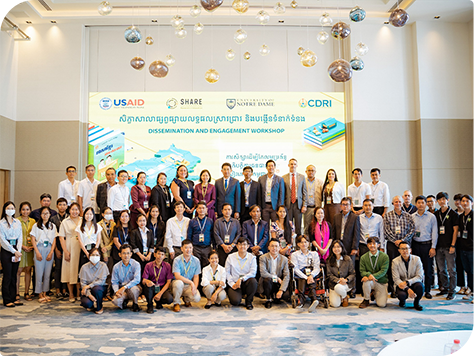 Mr. Sopheakmonkol Sok, the Co-Founder Codingate Technology Co., Ltd., participated in Dissemination And Engagement Workshop for the Learning to Improve Book Resource Operational Systems (LIBROS).
Let's Get Inspired With Us!